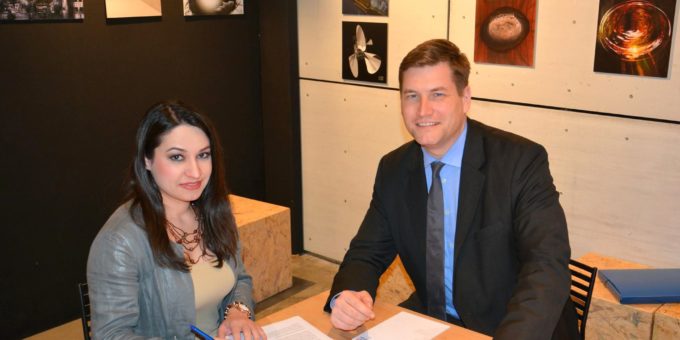 Interview to Athina Korovesi
From the internal issues, to the international, and conversely.
In the run towards the European Elections 2019, the fact of the year for whole Europe, the interest in european issues and their interaction within the internal political environment is reviving. In the current juncture, the outcome of the Europeans' vote causes worries up to… headaches beyond concern. This situation affects both the two sovereign political groups in the European Parliament and the their leaders and party executives of each country, as well as the European citizens in general, who are invited to vote for the most decisive elections for the future of the european construction.
In this framework, Mr. Simon Vaut, German candidate MEP with SPD, talks to "Politis Online" and Ms. Athina Korovesi about the expected outcome of the elections and the progress of his party, that saw its rates fall, following a downward trend since the German elections in 2017, when SPD hit a historically low, something that happened also to Christian Democratic Union of Angela Merkel.
The next day of these elections, Germany was in a state of mood and hesitant about trying to build a coalition government, that could not be implemented. The process lasted 171 days. As of September 24, 2017, when the elections were held, till March 14, 2018, when the CDU, CSU and SPD Major Coalition was formed.
Simon Vaut answers about any current shocks in the government alliance and tells us if the Social Democratic Party of Germany can regain the lost rates ahead of May 26th. In addition, he assesses the progress made so far by the alliance that has completed a year a few days ago, and he emphasizes that the extremely positive point of the said cooperation between CDU and SPD is the fact that the two parties have clearly different positions in the eyes of citizens, thus avoiding their identification by them. This situation was also promoted by the fact that the "conservative" Ms. Annegret Kramp-Karrenbauer, as he says, was Ms.Angela Merkel's successor to the leadership of the party.
The discussion with Simon Vaut includes of course Greece. The 40-year-old German candidate, who has been active in the German Social Democratic Party for more than half a his life (namely 25 years), responds to the support of the European Social Democrats to Mr. Alexis Tsipras, criticizing the Greek Prime Minister for what he was saying in the past for Europeans and especially Germans, but also refering the the steps forwerd that he and his party does. Simon Vaut is also refrerring to the Aggreement of Prespes and salutes the Greek Prime Minister for the sign.
As an economist, and as consultant of the former German vice-chancellor, Mr. Sigmar Gabriel, Simon Vaut is asked about his estimations for Greece's economy and points out his own and Ms. Gabriel's efforts, to attract the Germans investor's interest interest towards Greece.
The German candidate MEP also refers to the new generation of Greece and Europe, as well as to its needs, by linking the said issue to its own priorities as candidate. Besides, he unfolds his thoughts on Greece's cultural heritage of  country, as the birthplace of the Democracy. A word that he uses also for his personal election campaign, as he says that "The fight of the elections is the biggest moment of Democracy" according to his personal campaign website.
His references to the "cradle of democracy" lead to a question regarding the return of the Elgin Marbles (Marbles of Parthenon-Acropolis) from the British Museum. Simon Vaut advocated this view by characterising himself as an adorer og greek cultural heritage and hospitality of the Greeks.
His campaign begin the state of Germany with Potsdam as capital. So, from Brandenburg to the big fight of the Euro-elections. From the state where he studied and worked, by noting now "how much the Brandenburg needs Europe, and how much the Europe needs the Brandenburg". A phrase that is of particular importance for the people of the state and for the SPD as a whole, if someone notice that Simon Vaut is born in Hamburg and has lived in France, Belgium, Ireland and the United States.
And now, from Brandenburg to Athens. Where he travelled a few days ago for the needs of the seminar "Economy and Social Democracy" that was organized by the Friedrich-Ebert Foundation in Greece, FES Athen, and where he was teaching.
Below, you may find our interview with Mr. Simon Vaut, right after the end of the seminar. And as he said us, he hopes to return to our country as an elected member of the European Parliament this time.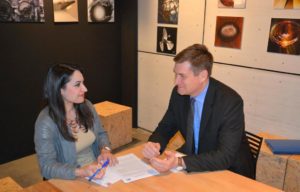 Athina Korovesi: Dear Mr Vaut, how the outcome of the European elections is shaped in your opinion, both for Germany and Europe in general?
Simon Vaut: I think that the outcome of the European Elections will be that the European Parliament will be more diverse. I am confident that will be a pro-majority, but both EPP and S&D will face wounds. The British members of Parliament, depending on the outcoming of Brexit might not be there which is a pity because we enjoyed to work with our friends from Labour Party. I think both the liberal parties and the extreme right parties will get stronger, so it will be more difficult to form coalitions in the future. But I am confident that we will have a pro-European majority also in the future.
Α.K.: Will the SPD recover its rates?
S.V.: Well, in Germany we have a large consensus for Social Democracy, so the other parties are more socialdemocratic and they used to be 10-20 years ago, and I think the policy in Germany at the moment is socialdemocratic. Ηowever the SPD as a party is on a low and this year is a "make-or-break" year for the SPD, either we recover or not. At the moment we are slightly under 20% and I think its very crucial that if at the European Parliament Elections we are over 20%, it's a sign that we recovering, and I see a scenario that we wil get strength again. So make-or-brake in 2019.
A.K.: Do you think that the big winner of the European elections will be the far right? How the rates of AfD are shaped now?
S.V.: Unfortunately they will gain more votes but I think they wish not to be as bad as they were fearing sometime ago. For example in Germany, I think that "Alternative for Germany" is behind and is getting weaker, "Front National" of Marin Le Pen is getiingg weaker, nationalism in Sweden is getting weaker. So, I think that will be more far right politicians in the next European parliament but they will be far away from majority.
Α.K.: Which are your estimations about the next President of the European Commision? Is it possible that the far right will have a majority in the EP?
S.V.: He hope to get our lead candidate, Frans Timmermans, and to have a majority for him in the next European Parliament. Βut the other candidates also have chances, Manfred Webber for example. I don't think it's realistic that the far right will have the majority. So there will be some coalitions between the pro European voices. It is unclear who will become President of the European Commision. I am very confident that will not be from the far right.
Α.K.: Some days ago, the big coalition of CDU-CSU and SPD completed a year of collaboration. How do you value your cooperation so far?
S.V.: We had a difficult start, was not our wish to enter that coalition after the elections in 2017, but since the liberal party didn't want to govern and we did not want to have new elections, we reluctantly aggreed to an other grand coalition. The beginning was quite shaky, because we were a a little trashed and now stabilizing, so we can deliver on some of our key promises. One very important key promise has to do with the minimum pension for people who worked. So, things like that improve the life of working people and that's our core agenda as Social Democrats. At least we can deliver on important things for working people.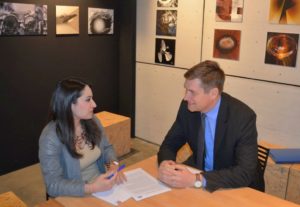 Α.K.: Which is your answer to the publications that support the the gap between CDU and SPD deepens?
S.V.: The CDU has a new leadershiop with Annegret Kramp-Karrenbauer. They become more conservative and the Social Democrats become more socialdemocratic again. I think it's good because in the past people could not find differces between the two parties and it's good that both have a clear profile gain. Of course we have to deal with each other, but I think It's good that people can see, even when we govetn together, that we are different parties and that we are Social Democrats and CDU is conservative.
Α.K.: According to high level officials from SPD, it is said that they will not vote for Annegret Kramp-Karrenbauer for Chancellor in case MS. Merkel will resign before the implementation of her term. Is that true?
S.V.: Yes, we signed an agreement with Merkel to govern with her but Annegret Kramp-Karrenbauer is more conservative and number of members of parliament said that they will not vote for her. It's not so easy. According to the german constitution she can not end over, so she has to have a vote in the Bundestag. At the moment it does not seen as she gets the majority she can to negotiate the coalition to the liberal party and green party.We are not reluctant to leave the coalition, but its unlikey that Social Democrats will vote for A.K.K. before the end of legislation period at 2021. Then we have the next elections and then she can run for office and try to gain a majority. At the moment we have elected Merkel and we have Signed an agerrement with Merkel but not with AKK.
Α.K.: Given you are an economist, which are your estimations for Greece' s economy? Furthermore, what Mr. Sigmar Gabreil stressed about Greece's economy?
S.V.: The good news is that Greece is slowly recovering, the bad news people don't feel the recovery. There are a lot of indicators but I have talked to a lot of people and particularly young people don't really feel the recovery. Youth unemployementy is still at 40% so Greece has to get on a much more higher growth rate that delivers to the people. Sigmar Gabriel has pointed out the most important thing that is investement. He asked the european and german companies to invest more. I think that the Euroepan Union and the German government has to help more on investments in Greece. I think there are a lot of opportunities. I conducted to a workshop that discussed different economic sectors, so there are a lot of opportunities. Young people in Greece are skilled and  german companies are well advised to invest in Greece because I think there are a lot of business opportunities. I suggest in Germany for investment in Greece and I talked positevely about Greece with a number of companies. I think it's in particular good that heavyweights like Sigmar Gabriel who has the ear of German political leaders and business leaders show the opportunities that Greece has to offer.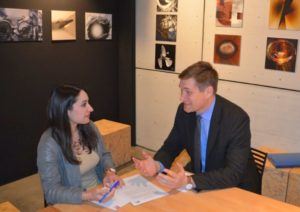 Α.K.: How do you value the support of European Social Democrats to Mr. Alexis Tsipras?
S.V.: Of course he is elected Prime Μinister of Greece and of course we want to have good relations with him and we see a positive development and more stability in Greece.  The Socialdemocratic Party of Germany invited him recently at a party convention. Of course there are still different opinions but we strive for respectful and constructive relations and be in a positive dialogue. The beginning of his government was shaky due to a lack of experience but things are much more smooth now.  I think Greece is on a good path and that's also thanks to Prime Minister Mr. Tsipras. We appreciate the aggreemnt with Northen Macedonia and we hope that the path of economic recovery of Greece will continue.
Α.K.: Regarding your participation in the European Elections, which are your priorities? Furthermore, is it difficult for a German citizen to be elected in the European Parliament?
S.V.: I think it's the most important elections we have ever had in the European Union, because, as we see from Brexit, European Union could fail but we also see that European Union is more important than ever, because we have to stick together as Europeans, countries get more nationalistic and authoriterean, and thus we want to continue the path of cooperation. My priorities are to develop and provide sustainable and social growth by the European Union. I think that we need all over the EU the growth that provide jobs, well paid jobs, and environmental sustainability. Especially for young people to provide well paid and secure jobs.
Α.K.: Last but not least, which is your opinion regarding the Marbles of Parthenon – Acropolis. Should they be returned to Greece from the British Museum?
S.V.: In general, the greek heritage is of course a great european treasure. I admire Greek philoshophers, by reading philoshophy and by discussing. It's great to see them in Greece as an example of the great european heritage and as the creator of democracy. Greeks can be proud by the long democratic tradition. It's something special to feel the birthplace of the modern democracy. And that is also expressed in architecture and it's very special to see that in real life here.
Α.K.: I wish you the best of luck and I would like to thank you very much for this interview.
S.V.: It was a pleasure of being in Greece and I enjoyed the country a lot as great hospitality, as a lot of culture heritage and as a lot of joy. I think tourism in Greece is a big sector that should expend, but also other economic sectors I think are developing well. I hope to be soon again in Greece, hopefully as elected Member of the European Parliament.
Α.K.: Dear Mr. Vaut, thank you for your time.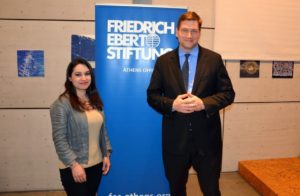 Sincere thanks to the management and staff of the Friedrich-Ebert Stiftung Foundation in Athens regarding their valuable help for the implementation of the interview, particularly to FES Athen Director Mr. Ulrich Storck and Project Manager, Mr. Stefanos Spiliotopoulos.
The interview was held at "The Box", Mavili Square, Athens, where the FES Athen seminar "Economy and Social Democracy" took place, with Mr. Simon Vaut as teacher.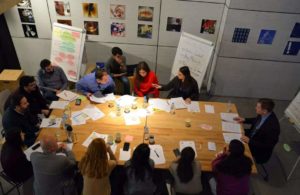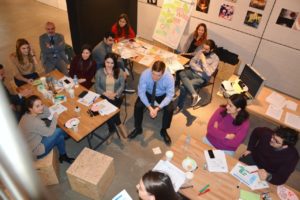 Photos: Stefanos Spiliotopoulos
The interview with Mr. Simon Vaut is published in greek on Politis Online: https://politisonline.com/synenteyxeis/584435/o-simon-vaut-ypopsifios-eyrovoyleytis-me-to-spd-sto-politis-online-me-ton-alexi-tsipra-echoyme-akomi-diaforetikes-apopseis-alla-agonizomaste-gia-sevastes-scheseis-kai-epoikodomitiko-dialogo/